Web Content Display
Web Content Display
Web Content Display
Web Content Display
Web Content Display
Web Content Display
Web Content Display
Web Content Display
Software for interactive image analysis in the Department of Molecular Biology and Clinical Genetics
The Department of Molecular Biology and Clinical Genetics, benefiting from the support of the qLIFE Priority Research Area, has purchased software for interactive image analysis.
Imaris software enables visualization of multichannel microscopy datasets and their quantitative analysis (both static 2D images and 3D time series).
Imaris software packages provide excellent cell division tracking algorithms and integrated tools for plotting all measurements synchronized with the divisions. Imaris enables visualization and virtual analysis of 3D data and includes a variety of spatial interaction measurements, such as object placement around surfaces, shortest distance, volume overlap and nearest neighbor analysis, cell analysis and discovery of intracellular relationships. All measurements are highly repeatable and can be performed in automatic repeat mode of the same analysis protocol for multiple samples along with statistical tests. In addition, the software offers a bi-directional interface for interfacing with Matlab, Java or Python.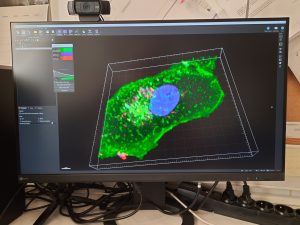 Purchase of the eqipment was made with funding from the qLIFE Priority Research Area within the framework of the Strategic Programme "Excellence Initiative" at Jagiellonian University.