Web Content Display
Web Content Display
Web Content Display
Web Content Display
Web Content Display
Web Content Display
Web Content Display
Web Content Display
Modern fluorescence microscope with optical sectioning module at the Faculty of Health Sciences
With the funding from the ID.UJ programme and the qLIFE PRA, the Faculty of Health Sciences expanded its research infrastructure with a modern, inverted optical microscope for observations in visible light and fluorescence. The purchased equipment will primarily serve to further develop the Faculty's research in the field of epithelial physiology and biochemistry (primarily gastrointestinal epithelium and vascular endothelium).
The microscope set purchased, manufactured by Zeiss company, consists of a fully automated, inverted fluorescence microscope (AxioObserver 7), equipped with a wide set of objectives (planapochromat-type and long-distance lenses of the highest class). The microscope has an LED illuminator for observation in transmitted light and a state-of-the-art illuminator for fluorescence excitation, provided with 7 LED lines (630 nm, 590 nm, 555 nm, 511 nm, 475 nm, 430 nm, 385 nm). In addition, a set of filters is available for observing the fluorescence of the most common dyes used in biological sciences. An important element of the purchased set is a unique system for making so-called 'optical slices', enabling 3D image reconstruction (Apotome™ system). In addition, the microscope is equipped with an incubation chamber, enabling cell culture directly on the microscope table and performing survival analyses, including time-lapse.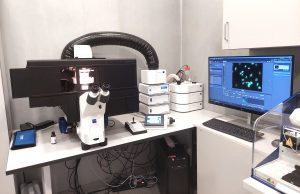 The main research area in which the purchased equipment will be used is basic research in the physiology and pathology of the epithelial barrier of the gastrointestinal tract and blood vessels, with particular emphasis on the use of in vitro cellular spatial models (including cell spheroids and organoid cultures, including cell models on flow microchips). These modern in vitro cell culture techniques are currently developing rapidly as ones that are much more reflective of the physiological conditions in a living organism, in comparison to classical two-dimensional cultures. The purchased microscope will allow the implementation of the above techniques in research conducted at the Faculty of Health Sciences of Jagiellonian University's Medical College. The device will be available to all researchers interested in using this modern microscope in their scientific projects.
The purchase was made with funding from the qLIFE Priority Research Area within the framework of the strategic programme Excellence Initiative at Jagiellonian University